PPC Jobs Salaries Infographic
Salaries and pay rates, as our regular readers know, is one of our running themes here at WAW … and why not! This is an industry that is growing at an incredible rate and where demonstrable skills and experience are at a premium.
At WAW we have been creating our own U.K focussed surveys for a while and so I was keen to share this Infographic I spotted which details USA PPC salaries (it's shown at the end of this post). So let's take a look for a moment at what the greatest of all market forces (I mean of course Supply & Demand …not Google!) is doing to internet salaries for PPC specialists.
Put together by Onward Search it concentrates on advertised salaries across the top 20 US Markets. Kicking off with a map showing PPC job postings by location and by number New York, Chicago and San Jose take the 1st 2nd and 3rd slots … no surprise there perhaps however Austin and Seattle don't look to have been far behind if my eyes are reading the size of the blobs accurately. We think the PPC job titles analysis is interesting … why? Because as we have said before in an emerging and ever evolving industry job titles are new and in many cases didn't even exist a few years ago. Both employers and job seekers should consider carefully job titles (and not take a guess at them) because as the table shows there are quite significant difference in salary levels not only between geographies but between job titles that may on the face of it appear very similar.  Take a look for example at the differences in Houston based salary ranges for a PPC Analyst ($44-100k) compared to a PPC coordinator ($38-42k)
Although they have titled the infographic PPC jobs it would appear that job titles included have stretched beyond that tight definition since Online Marketing Manager, Account Manager, and Director of Internet Marketing are included in the table – just check your worth against the nearest city and as always … comments welcome!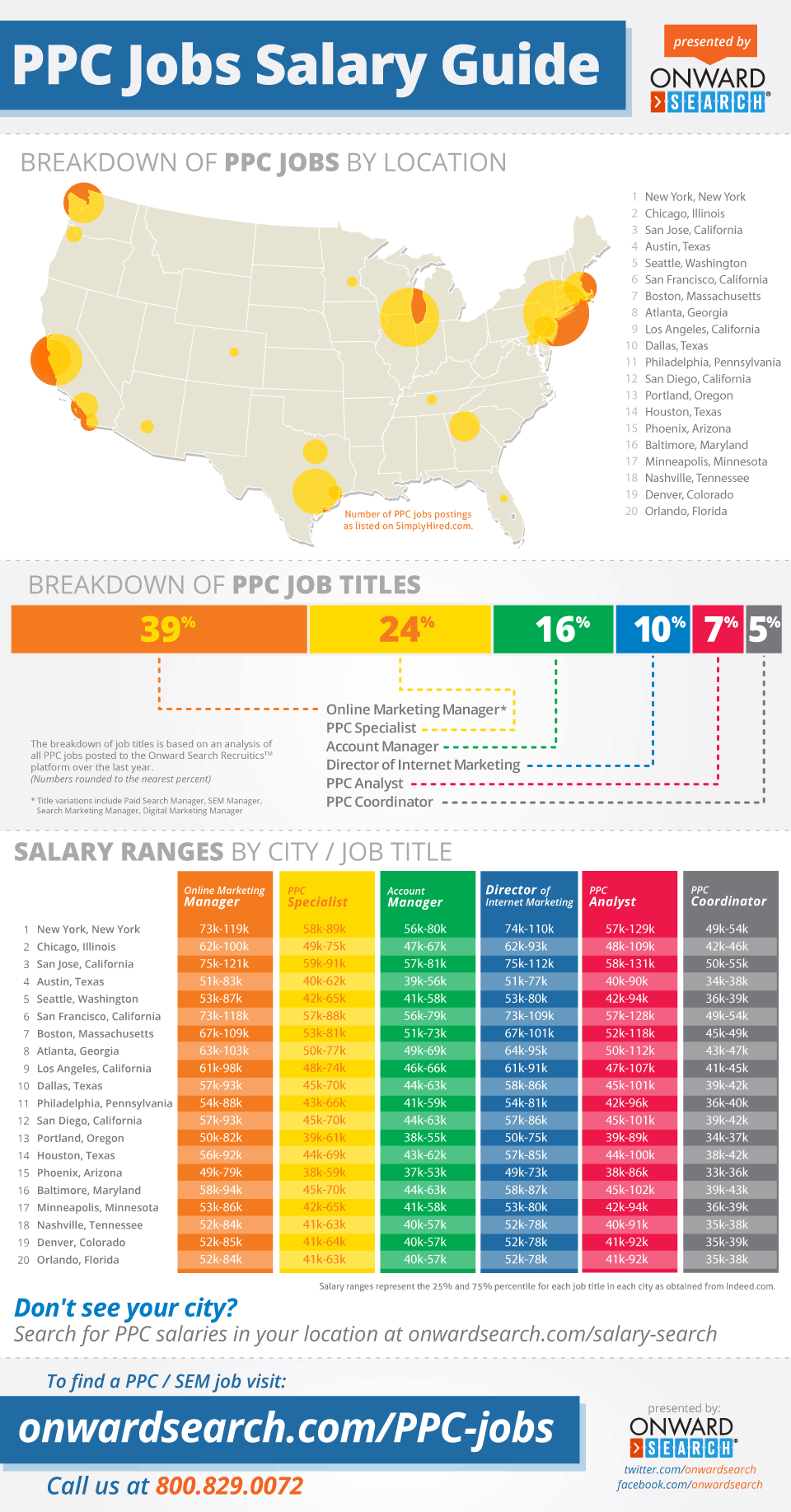 © 2012 Onward Search