It's easy, just implement the Google Analytics tracking script on your website, collect some data and start your analysis.
A rough estimate of what I have seen is that 90% of the implementations and configurations go wrong. Not to mention all the assumptions that people make when interpreting their Google Analytics data.
There are different ways to prevent this from happening. In this article I've come up with 10 tips to help you along the way and improve the quality of your data.
1. Define Your Online Business Goals First
How do you know what to track when you don't know what you want to achieve?
As a first step, think about your main business goal and secondary goals. In this context, a macro goal is the most important goal on your website. A micro goal is most often connected to your macro goal and is of secondary importance.
A few examples for each category:
Macro goal: selling a product, leadgen form submission, hotel booking.
Micro goal: newsletter subscriber, watching a demo, add product to cart.
It's much easier to write down an implementation document if you know your goals and what needs to be tracked.
2. Always Double Test Your Implementation
It's a best practice to first implement Google Analytics on a staging environment before deploying it on your live website. Testing is one of the most crucial things in this process.
You assume that everything should work well, but refrained from proper testing. It happens more often than you think that things go wrong here. There are many different tools to test your implementation. Here is a list of 6 tools to debug your Google Analytics implementation.
Be careful to specify your staging environment if you plan to work with domain filters. I recommend setting up a separate view for testing purposes.
How to Set up a Domain Filter
Step 1: go to Admin interface and select filter (for staging view).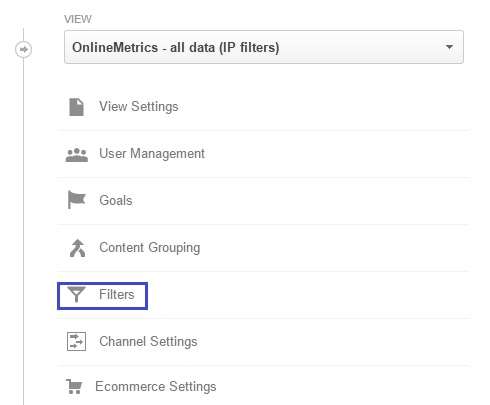 Step 2: click new filter.
Step 3: fill in filter details and click save.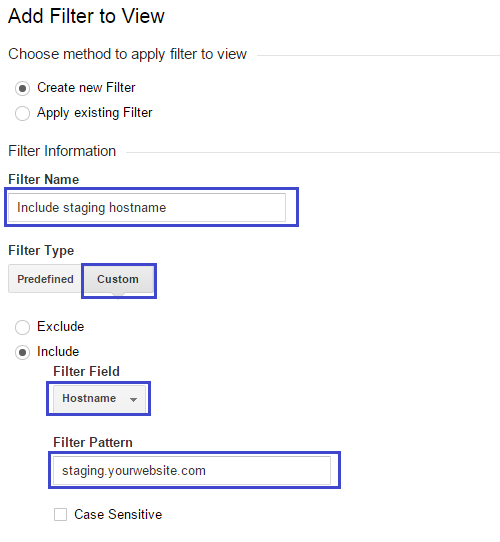 This is it. Wait for at least an hour to make sure the filter is active.
3. Become a Pro or Hire a Pro
We are all blessed with unique skills. Not everybody possesses the sought after skills to implement a web analytics tool or analyze a complex set of data.
Think about getting help if you lack the technical skills to correctly implement Google Analytics on your website. You can save hours of your time and prevent yourself from acting on the wrong data. This can be an expensive mistake. As far as data analysis, train yourself or get trained if you are not yet there and want to keep it inhouse.
Inhouse or outsource your digital marketing as a whole? It's an interesting question.
4. Use Google Analytics Data for Trends
"My Google Analytics numbers don't match our back-end?"
This is something I have heard many times over the last 10 years. Allow a 10 – 15% gap between your Google Analytics data and back-end data.
However, the difference might be far bigger if you run a very strict cookie policy on your domain. That's why I recommend using Google Analytics to put things in perspective and interpret trends and look at your back-end for 100% correct numbers.
5. Invest in All Web Analytics Stages
You can report every week, but it doesn't make sense if the numbers aren't right.
You have hired an agency to implement Google Analytics, but that's where it stops because not one person in your organization is using the data to optimize your online business.
Here is a simple overview of five stages you should take into account.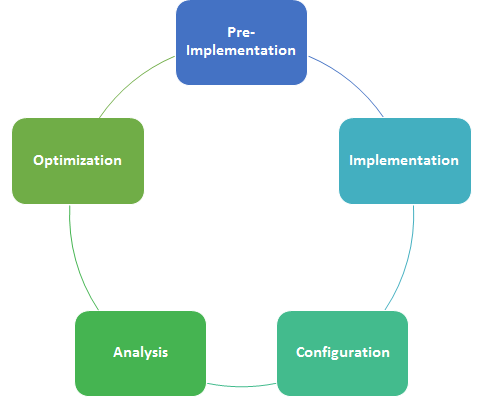 Pre-implementation; gather information about what needs to be tracked and write an implementation document.
Implementation; implementation of scripts and testing process.
Configuration; set up goals, filters, segments, custom reports and other admin features in Google Analytics.
Analysis; analysis of your website data and see which channels and parts of your website need immediate improvement.
Optimization; optimization of your online marketing mix, A/B testing based on quantitative and qualitative data.
It's important to invest enough time in each phase so that you have a better chance to reach your online business goals.
6. Learn About Basic Terminology
Do you know the difference between bounce rate and exit rate? Do you realize conversion rates are measured on the session level and not on unique users? It's more than worth it to invest enough time in understanding the basics.
Just point your mouse at a relevant metric and learn what it means:

This is a great help in understanding what all metrics mean.
In addition you really what to learn more about campaign tracking and how it works. If you get this wrong, you can throw your data in the trash can!
7. Learn About Statistics
Some companies might see thousands of conversions in a week, other companies just a few. Especially when your numbers are on the lower end, you need to understand how to deal with that.
You can easily draw conclusions on insignificant Google Analytics data. And the price you are going to pay is high! Make sure to learn at least the basics of statistics to avoid interpreting your data in the wrong way.
8. Formulate a Business Question First
Instead of diving into Google Analytics and dwelling around without a goal, you need to come up with a business question first. What are you trying to solve and why?
It's fun to look around – and sometimes ok to do – but in general it doesn't benefit your bottom line. For a lot of companies this simple step can be a huge win!
9. Know that Your Situation is Unique
Benchmarks are great, but not always motivating or accurate. I don't say you shouldn't look at competitive data. Actually it is a great source of information.
Please be aware that you are unique in a lot of ways:
Company history
Proposition
Budgets
Focus
Target audience
If you are not yet a data-driven organization, you might first want to focus on your own metrics to keep things simple.
10. Realize that Averages Lie
Averages are misleading and segmentation is king!
Put your bounce rate, conversion rate etc. into perspective to derive actionable insights in a much quicker way. What does it mean if your average conversion rate is 2%? It's all about what makes up this 2%.
You can look at this metric from a lot of angles:
CR per device category (mobile, tablet, desktop)
CR per day of week
CR per landing page
CR per visitor type (new, returning)
CR per traffic source
2% might sound not bad and not good either. If you want to improve it, you need to find the right spot for improvement. As shown above, you can make improvements on different levels.
In general, segmentation is key for optimization. This is true for online marketing mix optimization and A/B testing as well.
Good luck with improving the quality of your Google Analytics data!
I am happy to hear your opinion. Do you have any other tips you like to share?